"LIVE BIO" facelift: a news label for our organic bitter
A restyling to celebrate the colours of the Italian tradition and the most famous and iconic cocktail of our territory: the Spritz… as long as it is organic!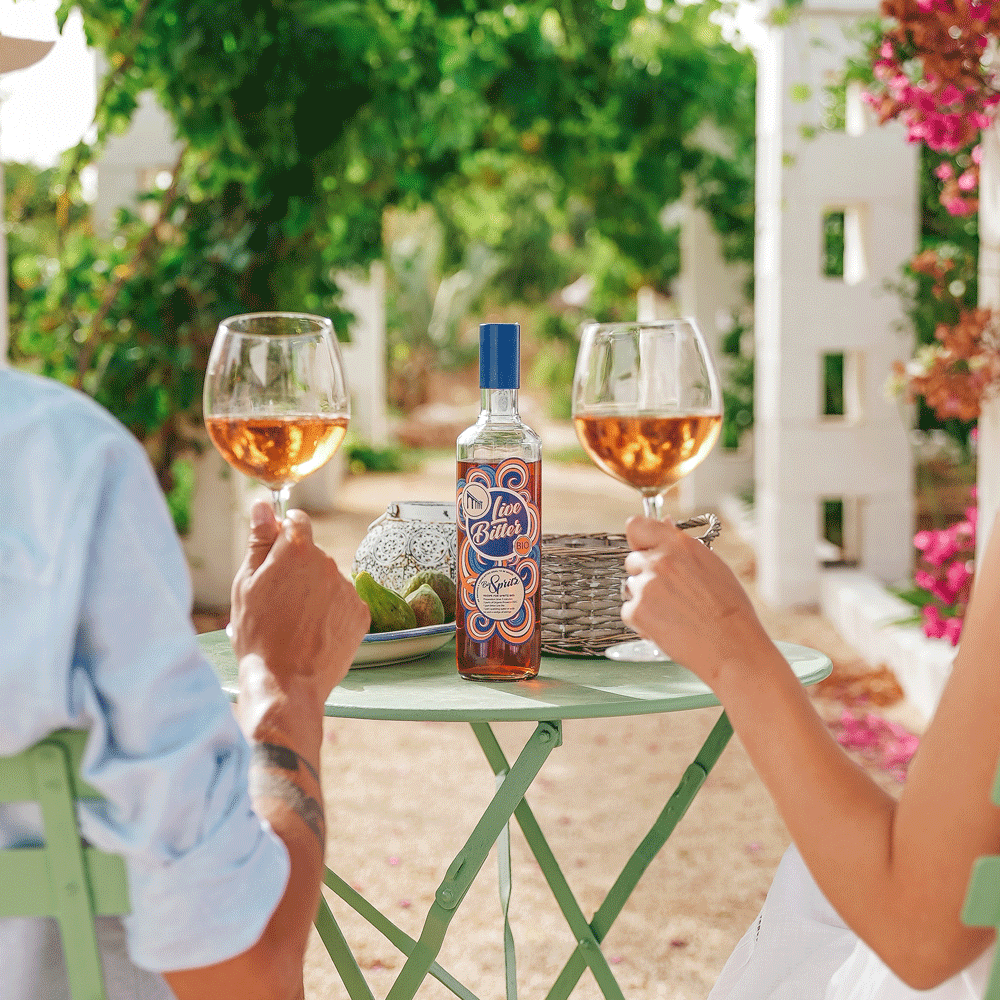 The Bitter, a product that was originally used for medical aims and to cure many illnesses during the 15th and 16th centuries, when doctors and pharmacists dealt with the composition of different formulations with spices coming from the Orient. A recipe wisely assembling the botanicals, different spiced drugs such as gentian, Angelica roots, cardamom, cloves, star anise, juniper berries and cinnamon and that thanks to its eupeptic qualities stimulates hunger and at the same time facilitates the digestion.
Our "Live Bio" is a completely organic and vegan certified Bitter, obtained by the processing of water, sugar, alcohol, herbs extract, roots and fruits with a concentrate of black currant, apple and carrot. We decided to renew the label, celebrating the typical colours of the Italian Bitters tradition, which became synonym and foundation of the aperitif. Among all, the orange one stands out, the symbolic colour of this product, a lively and cheerful hue bringing to mind conviviality moments and laughs with friends. Sustainability and attention towards the environment are always at the first place and indeed the label comes from recycled paper.
The Bitter, is the main ingredient for a Negroni, an Americano and obviously it is the perfect companion for our Organic Prosecco, if you want to drink a great 100% Organic Spritz! It is also interesting to mix the Bitter with orange juice and fresh fruits to prepare summer cocktails.
The recipe of the organic Spritz
Ingredients: 3 parts of No Sulphites Added Organic Prosecco 1 part of Organic Bitter "Live Bio" 1 part of sparkling water (or if you prefer organic seltzer). Ice and a slice of orange. Procedure: Bio Spritz is prepared in a rock glass or in a big wine glass. It is necessary to pour some ice-cubes and the Sparkling Prosecco. Then you have to add the sparkling water or the seltzer and at the end you pour the Live Bio by circular movements in order to avoid in to deposit only on the bottom of the glass. The Spritz is ready to be decorated with a slice of orange.
Cheers!