"Huakai": our white 'PIWI wine' paired with Prashad and Chole, as seen by Chiara Caprettini food blogger!
You know we like trying new things! We love discovering new tastes and perfumes! Are you ready to immerse yourself in the world of Indian cuisine?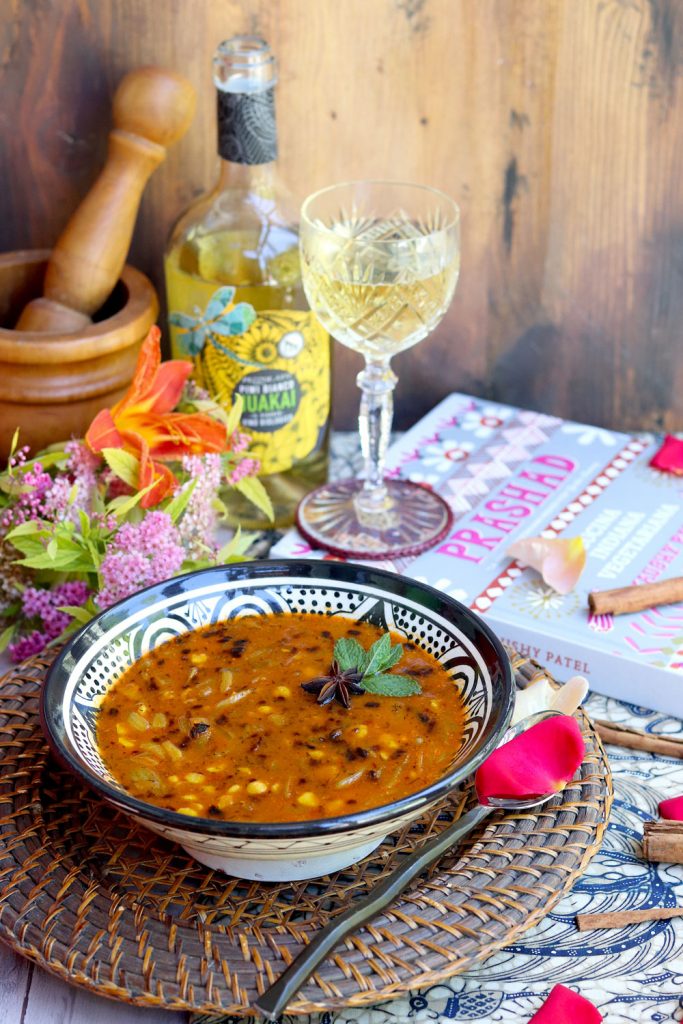 This time we wanted to find the perfect food-wine match up to enhance the distinctive character of Huakai, a white wine from our PIWI line whose tropical fruit aromas meet with subtle vanilla accents showing an explosive and completely new mix of aromatics.
Chiara Caprettini, food blogger passionate about "cuisines from the world", will be helping us in this! Through her blog Nordfoodovestest and recipes she will certainly ignite your curiosity and imagination: her each and every recipe tells the story and tradition of a place.
Here's the recipe!
CHOLE CINNAMON SPICED CHICKPEA CURRY. Vegan dish. Serves 4
Ingredients
• 3 x 400g tins of chickpeas, rinsed and drained
• 4 tsps sunflower oil, plus 75ml
• 15g coriander seeds
• 1 cinnamon stick
• 3-6 dried red chillies
• 8 cloves
• 1 tsp black peppercorns
• 6 bay leaves
• 2 tsps cumin seeds
• 1 onion, chopped
• 4cm root ginger
• 1 x 400g tin of tomatoes
• 2 tsp salt
• 1 tsp medium red chilli powder
• 1 tsp turmeric
• 1 tsp sugar
• 2 handfuls of fresh coriander, finely chopped
Method
• Place the chickpeas in a large pan with 500ml of warm water and boil for about 5 mins over a high heat. Remove from the heat and set aside, still in their cooking water. Heat 4 tsps of oil in a small pan for 30 seconds over a low heat, then add the coriander seeds, cinnamon, red chillies, cloves, peppercorns, bay leaves and 1 tsp of the cumin seeds.
• Fry the spices for 5 mins or so until dark brown, stirring continuously so that they don't burn, then set this garam masala aside to cool.
• Heat the remaining 75ml of oil in a large pan for a minute over a medium heat, then add the other tsp of cumin seeds and fry until they start to brown. This only takes a minute or two, so be careful not to overcook or burn them. Stir the chopped onion into the cumin seeds (careful, the oil may spit) and fry until dark brown, stirring regularly to avoid sticking or burning.
• Crush the ginger using a pestle and mortar (or a blender), to make a fine pulp. Stir the tomatoes into the onions, followed by the ginger, salt, red chilli powder, turmeric and sugar, then increase the heat to high. Stir in the chickpeas with their cooking water, and add 300ml of warm water. Cover the pan and leave to simmer for 5 mins, stirring from time to time.
• While the chickpeas are cooking, grind/crush the cooled roasted spices in a blender or with a pestle and mortar. Add them to the chickpeas, stir, then remove the pan from the heat.
• Sprinkle with the chopped coriander, then cover the pan again and leave to rest for about 10 mins to allow the flavours to unfold.
• Reheat over a medium heat.
Chiara was able to create a dish which pairs perfectly with our Huakai. This unique indian chole cinnamon spiced chickpea curry is incredibly savoury: a truly stellar explosion of spice and flavours! The dish is known all over the world including southern Asia; it is enjoyed at different times of the day: for breakfast, as a snack or even as a main meal.
Did you enjoy travelling with us?
Ps. Try this recipe out and share your creations on your social media profiles. See you there!
Image Gallery